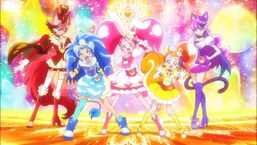 Atlantic: Kira Kira Precure Strikes Back! is the 20th episode of Season 21.
It's Sweets Day in Disney Junior Town, and everyone's craving for some sweet treats this year, but when the new villains Julio and Bibury arrive to take all the kirakirau away from the sweets, the Disney Junior Club must help the Kira Kira Precure save the sweets before the festival is ruined.
The episode begins with everyone in Disney Junior Town preparing for the Sweets Day Festival, and they couldn't wait to eat sweets after they were done with the preparations.
Powers that Kwazii uses
Edit
Atlantic Armor
Poseidon's Trident
Protection Power
Sweets Galore
Transparent Power
Bubble Blast
Water Pulse
Aerokinesis
The Cures make their second appearance in this episode.
Transcript
Edit
To see the transcript of this episode, click here