Cruella De Vil
is one of the antagonists in the Disney Channel Original Movie, Descendants. She is one of the villains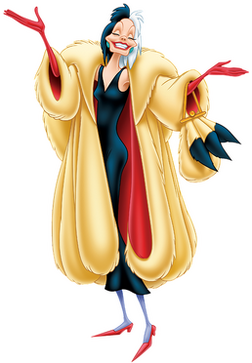 and she is also the mother of
Carlos
.
Personality
Edit
Cruella is described as cruel, greedy, mean, and sarcastic. She has a strong hatred of dogs, in which she would even go as far as to skin them to make a fur coat.
Appearance
Edit
In this movie, Cruella looks a lot more different than her previous carnations. Her hair is mostly black with bits of white on the more puffy side. She has dark skin instead of white and her clothing usually consists of a white and black coat, white and black pants, and red gloves with a ring.
It seems that Carlos has never talked back to Cruella, as she seems shocked when he tells her to back off of his dog.
While she only appears in the beginning and the end of the movie she is seen and mentioned a lot: in the museum she can be spotted twice: once as a statue and once as a painting.
She is one of the few villains to not be defeated by the main protagonist, but rather defeated because of her minions' incompetence.
Cruella De Vil's Crimes were:

Turning the dalmatian puppies into a fur coat which is Assesive Cruelty to Animals.
Trying to Run a Truck Driver off The road
Dognapping(The Puppies)
Ad blocker interference detected!
Wikia is a free-to-use site that makes money from advertising. We have a modified experience for viewers using ad blockers

Wikia is not accessible if you've made further modifications. Remove the custom ad blocker rule(s) and the page will load as expected.