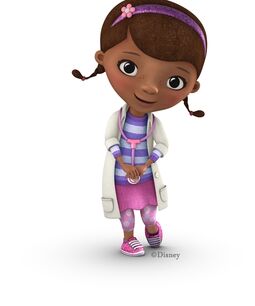 Dottie "Doc" McStuffins
 is a young, adorable, sweet and very beautiful 6 year old girl who is the main character from the Disney Junior series 
Doc McStuffins
. She is also in 
The Doc Files
. Doc is voiced by Kiara Muhammad (season 1-Early season 3) and Laya DeLeon Hayes (Season 3-Present).
Physical AppearanceEdit
Doc wears a glittery purple headband with a flower (consisting of 5 pink petals around its white center) on it, a white lab coat with rolled-up sleeves, pockets on each side, and a timberwolf button on its left side, a lavender fleece shirt with purple stripes, a pink fleece skirt with pointy cuts, lavender knee pants with pink and rose polka dots on them, a pair of purple ankle-length socks, a pair of sparkly pink sneakers with white trimmings, and her magic stethoscope (consisting of both pink ear tips and chest plate, both lavender ear tube and tubing, a rose chest piece, and a white diaphragm with its insignia consisting of a sienna Band-Aid with a red heart on its center diagonally to the left on a purple outline circle) that causes her toy buddies to come to life when her family and human friends aren't with her. When treating pets, she normally wears underneath her doctor's coat a green shirt with pink paw prints. In Season 4, she wears a toysponder, a magical bracelet resembling a bandage. She is usually seen in other clothes in some episodes.
She wears a large sunshade hat in "The Right Stuff" and "Blame it on the Rain", a pink polka-dotted dolphin tankini in "To Squeak, or Not to Squeak" and "Get Set to Get Wet", a cowboy costume in "Boo-Hoo to You", a winter outfit in "Chilly Gets Chilly", long sleeve purple PJs with a rose heart in the middle in "The Big Sleepover" and a blue fishing hat in "Out in the Wild".
In Star Darlings, Doc's Starling appearance includes a cute purple jacket and a pink shirt with a white shimmering star, a wrap skirt, gemstoned sneakers, pink leggings, and her Wish Pendant, a star headband. She has a purple star on her left cheek and her hair is lavender with a streak of her Wishling hair.
PersonalityEdit
Doc shares a fine respect for the toys she owns, for she even fixes toys that are broken. She cares for each and every toy she has and even her brother's or her friend's toys. Even if a toy appears to be scared, she is always caring and friendly. Her determination for fixing toys is limitless, for she will not stop until she reaches a diagnosis. Then she continues to fix the toy any way she can. Doc proves to be a good teacher to Lambie, Stuffy, and Chilly, shaping them into good doctors.
Outside of the clinic, she is always a loving daughter to her parents and cares for her family, including her brother. She cares for, not only the toys but for friends too outside of the house. With the help of her first-aid kit, she can help any toy and anybody. Her determination to help toys and people can travel far from the clinic.
Terra Monsters Edit
Mr. Cuddles the Chib Chib Edit
Doc's most cuddliest Terra Monster who was found injured during a storm. Doc quickly took him to the clinic and aided him back to health which after that, he gave Doc and her toy friends some cuddly hugs which is why she and Lambie named him Mr. Cuddles.
Hugs the Floatango Edit
A Floatingo who loves to give out hugs. Whether it's for cheering his friends up or congratulating them after a battle. He'll hug just about anything, from fuzzy teddy bears to cute squirrels, he won't stop hugging until the day ends. Well, except for one little thing; he is scared of sharp spiky things like cacti or sea urchins!
Dr. Freezy the Glaceleap Edit
Doc's built in ice pack maker that loves to make ice for her friends if the have a mega headache or a big bump on their heads. However, when she's not making ice packs, Dr. Freezy can be found making an icy obstacle course to train for her battle or making snowcones and popsicles for Doc's patients.
Doc usually appears in other clothes in some episodes.
Doc is African-American.
In addition to being a doctor, Doc also likes playing soccer with her best friend Emmie.
It is also hinted that Emmie may be the same age as Doc, while Alma, Will, and Luca may be the same age as Donny.
One time, Doc had a sprained ankle when she accidentally tripped and fell.
Doc has cried in the episode "Stuck Up".
In Seasons 1, 2 and early 3, Doc was voiced by Kiara Muhammad.

During Season 3, she was voiced by Laya DeLeon Hayes.
Ad blocker interference detected!
Wikia is a free-to-use site that makes money from advertising. We have a modified experience for viewers using ad blockers

Wikia is not accessible if you've made further modifications. Remove the custom ad blocker rule(s) and the page will load as expected.