Dress-Up Daisy
 is a very beautiful doll (similar to a Barbie doll) who loves to dress-up in different clothes (hence her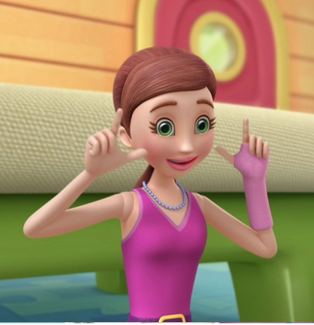 name) that once belong to a baby-sitter named Katherine that babysat for Doc and Donny but Doc learned that Katherine never had time to play with her doll as she gave Dress-up Daisy to Doc.
Dress-up Daisy is a doll of multiple fashion from a magenta ballgown to a green dress and has brown hair and green eyes.
"It's a fashion no-no!"
"Does the right jumpsuit say sophisticated yet sassy?"
Dress Up Daisy was voiced by Amy Sedaris in Season 2 except for "Blazer's Bike". In Season 3, she was voiced by Grey DeLisle.
She is based on the Barbie dolls.
Ad blocker interference detected!
Wikia is a free-to-use site that makes money from advertising. We have a modified experience for viewers using ad blockers

Wikia is not accessible if you've made further modifications. Remove the custom ad blocker rule(s) and the page will load as expected.