Fern
is a pink owl with purple eyes and a violet bow.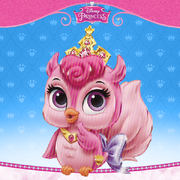 Personality
Edit
Unlike all the owls, Fern sleeps in the night. Aurora met her one summer night, when the little owl flew into her room looking for a quiet place to sleep. Amused by the odd little owl, she invited her to stay. The two have been best friends ever since. Her favorite hobby is exploring the castle's secret towers.
Ad blocker interference detected!
Wikia is a free-to-use site that makes money from advertising. We have a modified experience for viewers using ad blockers

Wikia is not accessible if you've made further modifications. Remove the custom ad blocker rule(s) and the page will load as expected.