Freddie Facilier
 is a character who appears in animated short series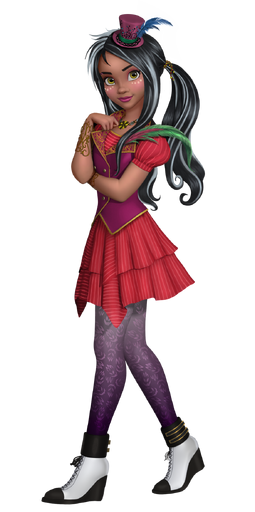 Descendants: Wicked World
. She is the daughter of Dr. Facilier.
Background
Edit
Physical Appearance
Edit
Freddie is a slender dark-skinned girl with greeny yellow eyes, amaranth pink lips and long black hair with light gray highlights tied in pigtails. She has four dot markings on each cheek and has two violet streaks across her right eyebrow.
Dressed in a similar style to her father's, Freddie wears on the left side of her head a small amaranth purple top hat with blue feathers, a scarlet dress with puffy short sleeves, and a amaranth purple waistcoat with gold lining and buttons with red and green feathers on the left side collar. She wears fading purple tights with face patterns that resemble Shadow Demons and wears black and white wedge heel shoes that resemble her own fathers. For jewellery, she wears two golden vine bracelets around her wrists and a flower like medallion around her neck.
She is the second new character to appear on the show.
The face patterns on Freddie's tights resemble the faces of the Shadow Demons, who aided her father in his plot to rule New Orleans in The Princess and the Frog.
In the second season of Descendants: Wicked World Freddie's voice actress, China Anne McClain, will be replaced by her older sister, Lauryn McClain.