The 
Multiplying Machine
 is one of 
Romeo
's inventions, introduced in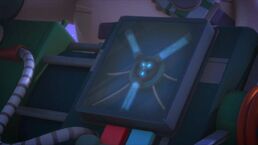 "Catboy Squared". Its purpose is to multiply almost anything Romeo wants. Romeo attempted to clone the PJ Masks (specifically Catboy) but the clones were slightly discolored and had different voices.
Also, in Two Miles To Go!, Miles used it to make a copy of himself so he can go to the Time Of Lumiere festival in Starland, but his clone turns out to be completely evil and rotten when M. E. R. C. realized that Miles messed up the machine's ray.
Ad blocker interference detected!
Wikia is a free-to-use site that makes money from advertising. We have a modified experience for viewers using ad blockers

Wikia is not accessible if you've made further modifications. Remove the custom ad blocker rule(s) and the page will load as expected.