Naomi Turner
 is a character who appears in the 2016 Disney Channel animated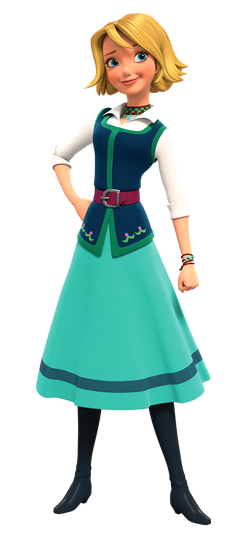 series 
Elena of Avalor
. She is an adventurer and is Elena's best friend.
Background
Edit
Personality
Edit
Naomi is a practical girl who never gives up. Unlike Duke Esteban, Naomi approves of Elena's take charge approach and is shown to have a dislike of the snooty Chancellor. She's also shown to have a fear of riding the Jaquins.
Physical Appearance
Edit
Around fifteen years of age, Naomi is a fair-skinned girl with a slender figure and deep aqua blue eyes. She has short blonde hair and faint freckles across her cheeks.
Her signature outfit includes a deep bluish-green bodice with strong green lining and decorated with flowers at the bottom, that go over a white top. She wears a brilliant green skirt with a deep bluish-green strip that goes around the lower part. She has black boots and wears around her waist a dark red belt. Around Naomi's neck, she wears a patchwork choker necklace decorated with three turquoise gemstones dangling from the front. Around her left arm, Naomi wears a braided cord bracelet with similar gemstones on her necklace.
Her home country is Norberg.