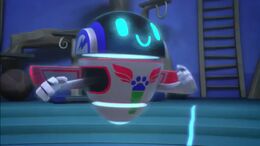 PJ Robot is a character that debuted in Season 2 PJ Masks episode Wacky Floats.
Abilities
Edit
PJ Robot has the ability to hover above the ground, but additional details of its ability are currently unknown. It is presumed that PJ Robot can fly at high altitudes and speeds because of its wings.
Personality
Edit
PJ Robot cannot speak. Instead, he expresses his emotions by changing the digital face on his head. He is very friendly and energetic.
Physical appearance
Edit
PJ Robot is shaped slightly like an egg and is white in color with a red trim design around its body and wings. It wears white gloves on its hands, and it has a clear dome for a head, with an aqua-colored digital face.