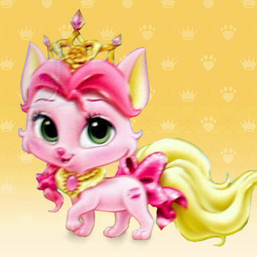 Rouge is a light pink kitten with green eyes, a yellow tail, and hot pink hair with magenta bow and styled like Belle's hair. She wears a gold crown and accessories with pink jewels and a pink bow.
Belle met her when Rouge was found outside the Castle Library. Belle loved her so much she decided to keep her forever. Rouge loves listening and reading stories about far off lands and also enjoys visits to Maurice's messy invention room. Rouge is very curious.
In the series
Edit
In Lucky in Love, Connor's pet black cat, Lucky, falls in love with her and decides to ask her out to the Whisker Haven Valentine's Day Ball.
Ad blocker interference detected!
Wikia is a free-to-use site that makes money from advertising. We have a modified experience for viewers using ad blockers

Wikia is not accessible if you've made further modifications. Remove the custom ad blocker rule(s) and the page will load as expected.