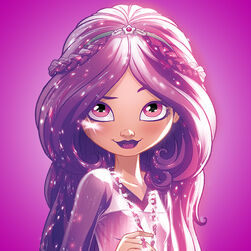 Sage is a first year student at Starling Academy, and the leader of the Star Darlings.
Sage has wanted to be a Wish-Granter ever since she saw her first shooting star. Being admitted to Starling Academy was like a dream come true.
When it comes to energy manipulations, she can out-glow anyone! It's always easy for her. Even as a baby, Sage could levitate her toys, but because of her natural talents, she sometimes forgets that she has a lot to learn from school. Sage uses her gift for energy manipulation to play blazing guitar solos in the band.
Sage is a bold, positive force, full of charisma, who always looks on the bright side. She's lighthearted and luminous and finds it easy to make new friends. Sage's confident vibe attracts others into her orbit. But Sage is not all twinkles and starlight. She sometimes says things without thinking and then falls over herself apologizing!
Sage's mom, Indirra, is a top wish energy scientist and her dad, Leonard, works in the government. She and her seven-year-old twin brothers, Archer and Helio-who love nothing more than annoying their big sister-grew up in a big rambling house in Starland City, along with their parents and grandmother, Gran.
To see the trivia, click here
Sage is named after the Sagittarius, the ninth zodiac sign.
Her roommate is Cassie.
Her mother Indirra is a top wish energy scientist, while her father Leonard works in the government.
She has two twin brothers named Archer and Helio.
Her wish is to become the best wish granter Starland has ever seen.
Her hometown is Starland City.
Her wish pendant is a necklace.