Scarlet's Mismatched Half
is the 11th episode of Season 19.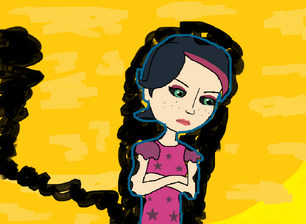 Scarlet and the other Star Darlings head back down to Wishworld for Valentine's Day and Scarlet is excited to meet Maxwell again, even though she erased his memories a long time ago, but Scarlet soon becomes heart broken when she sees Maxwell with another Wishling girl, and soon becomes negative and jealous that it changes her into a Dark Starling!
The episode begins at
Powers that Kwazii uses
Edit
Memory Recovering
Ice Shield
Protection Power
Sweets Galore
Magic Rope
Love Magic
Peace Magic
Scarlet turns into a Dark Starling in this episode.
Scarlet meets Maxwell again for the second time.
Maxwell's memories are restored in this episode.
Transcript
Edit
To see the transcript of this episode, click here