The Octonauts and the Jellyflash
is the 21st episode of Season 15.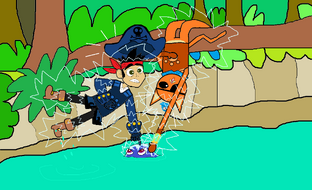 When the Gup-TD crashes in the luminous waters of the Shimmering Seas, the ship loses power when its electrical systems are damaged. However, Kwazii and Captain Jake are happy to be in one of the most biologically rich habitats on the magical parts of Earth, and they set out into the sea to magical creature adventure. The pirates soon find a creature that may be able to solve the Gup-TD's electricity problem: the flashing Jellyflash.
The episode begins with the Gup-TD flying above the Shimmering Seas and following a Brave Eagle flying to the Fantasy Forest to hunt for some food. However, the gang lost sight of it. It was lost, deep in the rainy forest of the Shimmer Seas filled with amazing but deadly magical creatures like Skygers, Craguars, Rockodiles, Goblin Gobblers, said both Captain Jake and Kwazii. That only freaked Tunip out and then he faints.
Dashi calls to Tweak that Tunip fainted again as she arrived and gave Tunip a fish biscuit which will wake him up, but as Kwazii, Captain Jake, and Captain Barnacles helped their friend up on a chair, the sleeping Tunip accidentally lays his forehead on the speed button which made the Gup-TD go super fast!
Powers that Kwazii uses
Edit
Supercharging Power
Aqua Wings
Stretchy Powers
Super Speed
Immune Power
Stretchy Power
Fantasy Forest Animals seen
Edit
Jellyflash
Brave Eagle
Skyger
Craguar
Rockodile
Goblin Gobbler
This episode is based on Eel-letric! from Wild Kratts.
Transcript
Edit
Captain Barnacles (Narrating): The Octonauts and the Jellyflash.
Ad blocker interference detected!
Wikia is a free-to-use site that makes money from advertising. We have a modified experience for viewers using ad blockers

Wikia is not accessible if you've made further modifications. Remove the custom ad blocker rule(s) and the page will load as expected.